For this months quest over at
Quoth the Raven
the theme is anything Poes. To create anything which your heart desires. I have taken delight in altering a Perfume Bottle and hope it will appeal to the Master in it's Dark, Silky Succulence. I created the label in photoshop, printed out and attached to the front of the bottle. Altered the bottle top to look like stone from an ancient grave yard. Dyed the tassel string and attached around the neck of the bottle. Voila Eau de Poe.............
The label on the back reads:- A Deep Dark and Mysterious blend full of Decadent Evil that will stir your Darkest Desires. With a Bouquet of Beautiful but Poisonous Blooms. Use with Extreme Caution................
Eau De Poe front view.
Eau De Poe back view.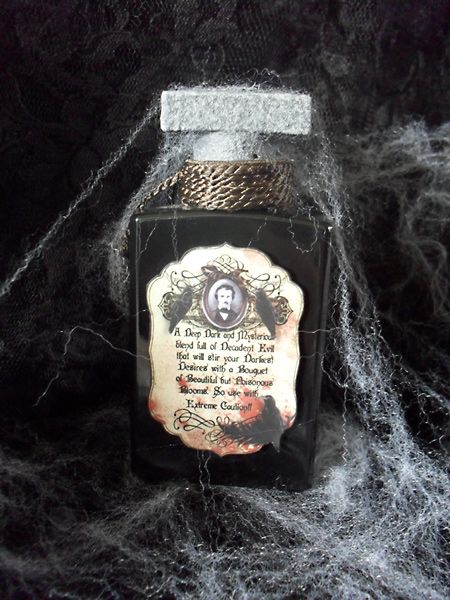 A very enjoyable time I had creating this for the Master and hope that it meets with his approval. Till the next time...................
Thanks for taking the time to stop by and read.
Hugs Fiona.oxoxoxo