You are to

create a

dark, Gothic, or Halloween

-based

art piece
that has something to do with
a creature or plant whose existence has been suggested but is unrecognized by scientific consensus and often regarded as highly unlikely! Think Loch Ness Monster, Yeti, even Faeries.
I chose to base my entry on the Chupacabra. As to what sort of animal the chupacabra might be, the question is hard to answer because this cryptid is so weird. Its name means "goatsucker" and that is what it allegedly did: it attacked livestock and sucked their blood like a vampire .Constant features include large eyes that are usually red or orange and about the same size and shape as an egg, a mouth full of big fangs, sharp claws on the hands and feet, three-toed hind feet that might also be webbed, and a hind portion shaped like a kangaroo with oversized legs for jumping. The top portion of the body looks stunted and scrawny in comparison with its massive hindquarters.
CHUPACABRA.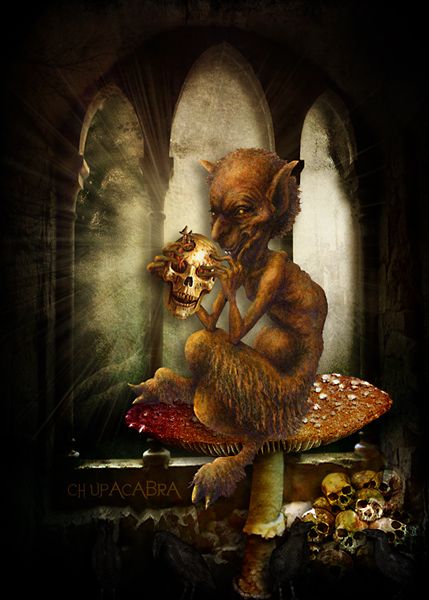 So here is my interpretation of this weird little Cryptid. Created in photoshop for your viewing pleasure. My Chupacabra does not suck the blood of goats but instead prefers the blood of humans. Preserving the skulls of his victims as a reminder of his conquests. Another great challenge to stretch my imagination.
Thanks for taking the time to stop by and read.
Hugs Fiona.oxoxoxo.