My friend Mark over at
Spesh Ink
pointed me in the direction to a wonderful Dark and Gothic Site....
Quoth the Raven, Nevermore
. A poe inspired site with some wonderfully Dark and Erie Challenges, which are oh so very me. The challenge of the theme posted is " Some Words with a Mummy". You are to create an art piece using the masters tale as inspiration.
Quote: "Come to me, by all means, my dear good friend, as soon as you receive this. Come and help us to rejoice. At last, by long persevering diplomacy, I have gained the assent of the Directors of the City Museum, to my examination of the Mummy --- you know the one I mean. I have permission to unswathe it and open it, if desirable. A few friends only will be present -- you, of course. The Mummy is now at my house, and we shall begin to unroll it at eleven tonight".
So here is my offering to the master in depiction of the tale told to which the Master doth favour.
KEY TO HAMUNAPTRA.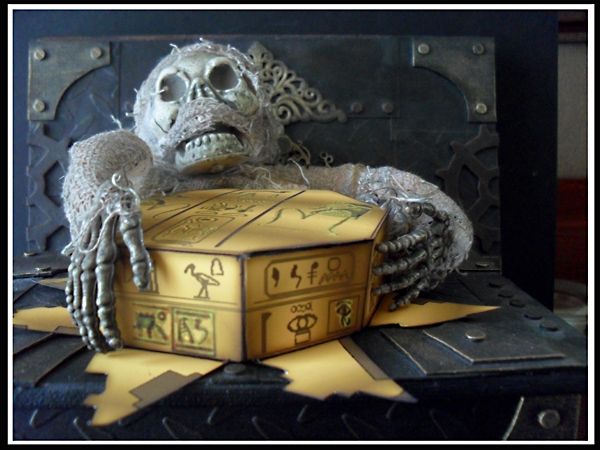 The key to Hamunaptra which fits into the cover of the Book of the Dead to ressurect life.Guarded and sacred to the mummy who wishes to return from the afterlife. The key was constructed in card from a template. The ancient mummy of which now remains only a skeleton and delicately wrapped in embalmed bandages. Dare we use the key to open the book of the dead and bring the Mummy back from the Afterlife?
A fun challenge in which I will definately participate again. Thanks Mark.......
Thanks for taking the time to stop by and read.
Hugs Fiona.oxoxoxo